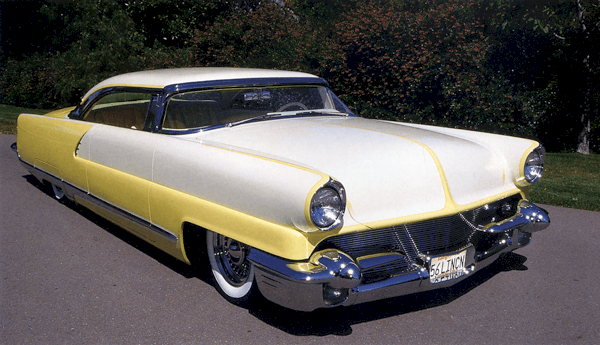 This beautiful custom debuted at the Sacramento Autorama and took home the prestigious Harry Bradley Award for excellence in design, workmanship and creativity. It was also well received at the 50th anniversary of the Grand National Roadster Show and at the Good Guys Get Together in Pleasanton.
The top was chopped five inches. Upper rear side molding was hand-built by John Aiello. Rear glass was sunken into trunk to give the car that smooth flow. Windshield and all glass work was performed by Dan Mazzoncini of Dan's Glass, Concord, CA.
Complete hand-built front end was created around a 1958 Cadillac front bumper. 1956 Olds headlight rims were used again ( a Zocchi trademark). Makes the car look like it's moving when standing still. The hood was extended 2 ½ inches, the corners were rounded and filled to create the grill opening. The grill was hand-made by John Aiello and consists of ¼ inch round rod (22 pieces), then chromed. Front wheel opening were raised one inch to accommodate the bumper.
Rear quarter panels were filled to eliminate continuous body line from front to back, thus creating the leading edge for the scoop – a fantastic original design idea. It was then trimmed with three chrome spears from a 1958 Cadillac. Side moldings remain stock.
Tail light lenses are from a 1954 Packard, extended and shaped. Bumper was molded and cleaned and a special bracket was made to house the license plate. Rear trunk cavity was formed with round rod and a rear grill was made to match the front. All doors and the trunk are remote with Unkl Al's entry systems.
All body work was performed by John Aiello of Acme Auto Body, Antioch, CA.
The paint was mixed from Dupont materials – yellow and cream white, then covered with gold pearl. Paint was applied by Darryl Hollenback, also of Acme Auto Body. Pinstriping was performed by Art Himsl.
Custom interior consists of four bucket seats with continuous center console running through the middle in a cream gold vinyl. Headliner was hand-built, as well as most of what you see on the inside. Work was performed by Bob Divine Interiors, Martinez, CA.
All chrome and stainless by Sherm's of Sacramento, CA.
Tires are Coker classic radical whitewalls – 205 R-75-15. Seven inch Roadster wire sheels were used with T-bird centers capped with a bullet.
The engine is a stock 368 cubic inch, with factory power steering, power brakes and power windows. Chassis work consists of dropped spindles by Fat Man, adapted to Granada power disc brakes. The back was lowered with the use of lowering blocks and re-worked leaf springs. Frame was C'd and drive shaft tunneled. Monroe air shocks with compressor were used in rear. All work was performed by Bill and Tom Fraser of Antioch Muffler, Antioch, CA. The car rides like a dream for as low as it is (5 inches all the way around).
Pioneer stereo was installed.
Engine was painted by Evan Kohler, Richard's brother-in-law.