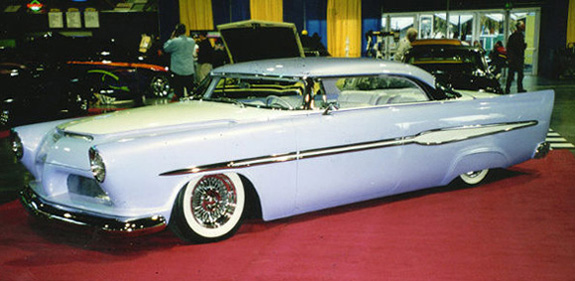 The car premiered at the 2000 Grand National Roadster Show San Francisco Cow Palace and was awarded the prestigious George Barris Kustom d'Elegance Award. (Richard Zocchi won this award three times now … he was the winner of the very first George Barris Kustom D'Elegance Award in 1992 with his fabulous '39 Dodge and again in 1994 with his chopped yellow pearl '51 Olds).
At the Sacramento Autorama the car won the very first Manuel Arteche Memorial award. At the Good Guys All American Get Together in Pleasanton, California, it was in the Top Five customs. Finally, at the West Coast Kustoms Paso Robles 2000 car show, it received the Larry Watson Nostalgia Pick.
The top was chopped four inches. The rear window was sunk into the package tray to create the flowing line. The side roof molding was hand-built. The windshield and all glass work was done by Dan Mazzoncini of Dan's Glass, Concord, California.
The upper hood was lengthened 1 inch to create the hood grill and rear scoop. The centerpiece of the grill opening was sectioned three inches and the grill cavity was hand-formed. The front grill hood scoop and rear grill were hand-made of three-sixteenths round rod by John Aiello. Headlights were extended out four inches to simulate early 50s Studebaker look. Headlight bezels again used by Zocchi is his trademark look – '56 Olds with the outside lip cut off.
Front and rear bumpers were frenched and extended … all bumper bolts shaved off to give it a clean appearance. Front and rear wheel wells were flared. Hand-made rear skirts were added. Rear quarter panels were extended four inches. One-half inch round rod was used to create cavity opening on taillights, which were hand-built by Gene Winfield. Side molding was used from '57 Pontiac which was altered on the quarter panels. Doors and trunk handles were all removed and Unkl Al's remote system was used.
Paint was applied by Marcos of Lucky 7 Auto Body, Antioch, CA. PPG toners of violet and white were used in a custom mix by Marcos with gold pearl.
The front suspension was re-worked with drop spindles from Fat Man Fabrications by Bob Madsen. The car was then turned over to bob Westbury for installation of Air Technology Air Ride System.
The interior was hand-built by Bob Divine Interiors of Martinez, California. It was done in violet and white to match the dash and exterior. Pioneer sound system was also installed by Divine.
The engine is a stock 315 Hemi except for a mild cam. The engine was all painted and detailed.
All chrome work and stainless work was done by Sherm's Plating of Sacramento, California. The car has radial tires with 2 ¼ inch whitewalls. Hubcaps were custom made.