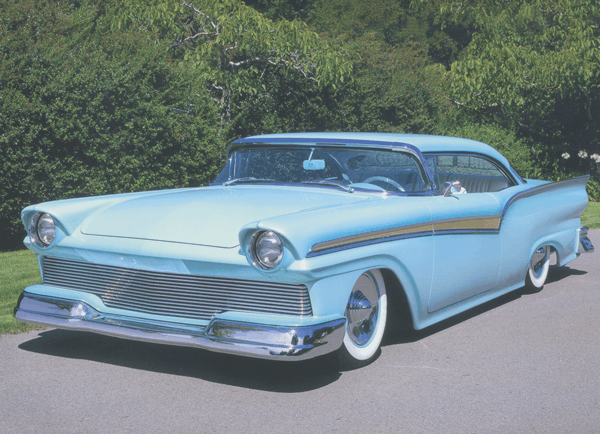 The top has been chopped three inches. All body work was performed by John Aiello of Marco's Lucky 7 Customs of Antioch, CA.
Headlights were frenched two inches with hand-made chrome rings. The chrome grill was made out of 3/8" aluminum bars, created by Glory Grills. The front bumper was frenched by extending the pan over the top of the bumper with the use of round rod. Bumper bolts were flushed.
Wheel wells and rockers were lowered ¾". All door and trunk handles were eliminated and Unkl Al's solenoids were installed.
Taillights were frenched three inches with hand-made chrome rings. Perforated metal was used over red plastic to create the taillights then capped off with a large bullet. The license plate was frenched into the body and the gas nozzle was put inot the trunk. The rear bumper pan was hand-made and the bumper bolts were flushed and the bumper ends were capped off with a nice clean look. Stainless on doors was re-worked to eliminate the key hole to create a continuous unbroken line. New gold anodized inserts were made and installed.
Paint is blue-green PPG mixture by Macos Garcia, owner of Lucky 7 Customs of Antioch, CA. All the edges of the stainless and body were fogged in (highlighted) a darker shade of the same color.
Bucket seats were used and lowered for hear clearance. Upholstery is white pearl trimmed with blue-green ultra suede. Plush blue-green carpets finish off this perfect setting. Work was performed by Bob Divine of Martinez, CA who also installed a high tech Pioneer stereo system.
Running gear is a Ford 351 Cleveland.
Hubcaps were custom made from a 1956 Lincoln Premiere, capped off with a bullet. Tires are Diamondback Classics 195 R-75-15.
Suspension sits on air bags.